HILK
Construction of the Health Information Literacy Knowledge Test HILK
| | |
| --- | --- |
| Funding: | Budgetary funds |
| Grant term: | April 2015 - |
| Project Partners: | -- |
| Project Manager: | Dr. Anne-Kathrin Mayer (ZPID) |
| Project Staff: | BSc Julia Holzhäuser (-March 2016); Dipl.-Psych. Veronika Kuhberg |
Description
Until now, health information literacy is usually assessed by self-reports or by achievement tests which cover basic literacies like reading and interpreting medical information (e.g., understanding prescription orders for the intake of a medicine). However, there are no tests assessing competencies regarding the goal-directed search and critical evaluation of health information.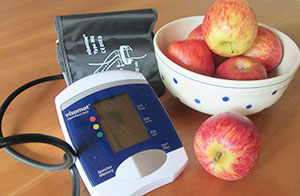 Therefore, a multiple choice test of health information literacy was devised. The test is based on general process models of information literacy and information problem solving as well as models of health literacy. It aims at assessing the level of declarative knowledge with reference to the search and evaluation of health information. In a pilot study including a sample of students, the measure was tested and validated. The final version is applied in additional studies with students and non-academic samples to work on specific research questions from the fields of "health literacy" and "health information literacy".
For example, a dissertation project analyzes health information literacy of vocational school students. The project aims at modelling the relations between health information literacy, health interest, personality variables, and health-related beliefs.
Publications
2017
Talks/Posters
2017
2016
2015
URLs of the links on this page:
http://www.zpid.de/pub/research/2017_Kuhberg_Determinants-of-health-information.pdf
http://www.zpid.de/pub/research/2017_Kuhberg-Lasson_ECIL.pdf
http://www.zpid.de/pub/research/2017_Mayer_Assessing-health-information.pdf
http://www.zpid.de/pub/research/2017_Mayer_Lugano.pdf
http://www.zpid.de/pub/research/2016_SeniorenstudiumUniTrier-Mayer-Gesundheitskompetenzen.pdf
http://www.zpid.de/pub/research/2016_Mayer-Holzhaeuser_Poster-Leipzig-GF.pdf
http://www.zpid.de/pub/research/2015_Mayer-Holzhaeuser_bruessel.pdf